As the bear hug gets tighter, the price of Bitcoin may drop below $21,000. Recent price movements saw a high of $25,135 and a low of $23,243. The short-term aim for the declining price trend is a drop to $21,000–$20,000.
Bitcoin Bulls Loses Steam
On August 18, Bitcoin, the leading digital asset, is battling to hold over $23,500 as it tries to maintain an upward trend that has been growing for the past two months.
The bulls' dominance is clearly dwindling on the daily bar chart, and they will soon need to show greater tenacity to continue a price climb.
bitcoinBTC/USD trades at $23k. Source: TradingView
In just one week, the Crypto Market Fear and Greed Index dropped from 47 to 30, and in just one day, it went from 41 to 30.
This week's additional selling pressure could either reverse the upward price trend or put it in an even more vulnerable situation.
Additionally, the MVRV 7-day Detrend Oscillator has developed a negative divergence pattern in response to the recent Bitcoin price trend. It implies that the price of BTC can drop below $21,000. By removing long-term price noise, applying a detrend filter to the price trends makes it easier to spot market bottoms and peaks.
Bitcoin (BTC) MVRV 7D Detrend Filter. Source: CryptoQuant
Long-term Bitcoin prices have been falling, particularly since November. However, over the past month, the price has increased. The daily timeframe declining channel shows that the BTC price was poised to break above the channel but fails to do so due to the $25,000 psychological resistance level.
According to the crypto trading analyst, Michaël van de Poppe, Bitcoin's 'trend remains upward on higher timeframes.' Poppe stated:
"Crucial to break $23.7K back. If a move to $24K occurs, a flip of $23.7K is trigger for longs. The trend remains upwards on higher timeframes. Still expecting $28-30K in the next weeks."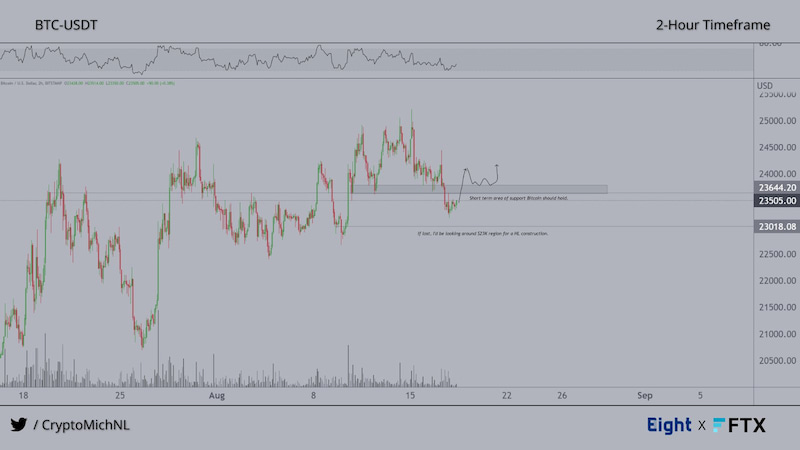 Bitcoin price target. Source: Michaël van de Poppe
According to TradingView data, Bitcoin currently has a market value of $449 billion, up 0.10% in the last 24 hours but down 5.03% in the previous week.
Mining Difficulty Surge Amid Downtrend
The most recent network change resulted in a 0.63% increase in the difficulty of mining bitcoins.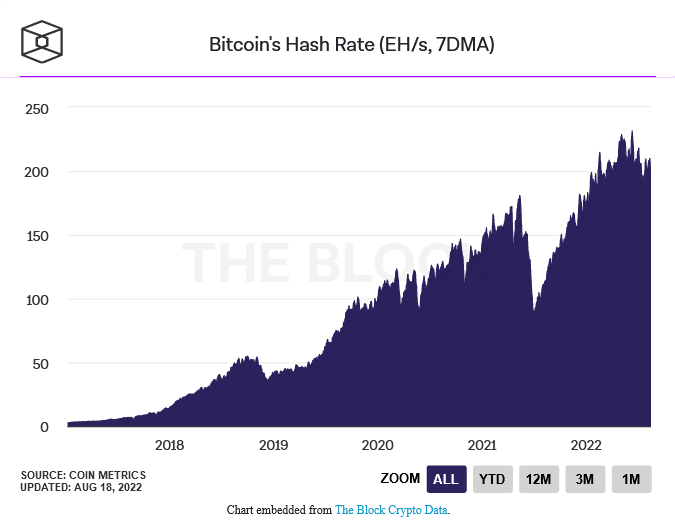 Source: The Block Crypto Data.
A change was made, and BTC.com updated its website on Thursday to reflect it. The Block Research's data shows that the network's hash rate has increased by roughly 1.5% since the last update on August 4.
Since May's cryptocurrency market collapse, Bitcoin's difficulty has largely decreased. The most recent modest uptick comes after an increase of 1.74 percent on August 4.
Featured image from Pixabay, Chart from TradingView.com, Cryptoquant, and The Block