Bitcoin correlation with Gold continues to rise since March due to uncertainty amid the banking crisis and higher interest rates. The banking crisis led investors to put their money in Bitcoin rather than gold as it gave higher returns than gold and US equities.
The BTC price currently trades near the $30,000 psychological level, recording a strong rally of 85% this year. Experts believe the BTC price can hit over $135k after the Bitcoin halving next year.
Bitcoin-Gold Correlation Rises Higher
Bitcoin 30-day correlation with gold has surpassed the 50% level and now stands at 57%, as per data by market analytics firm Kaiko. The correlation is rising since March after regulators closed crypto-friendly banks causing a banking crisis.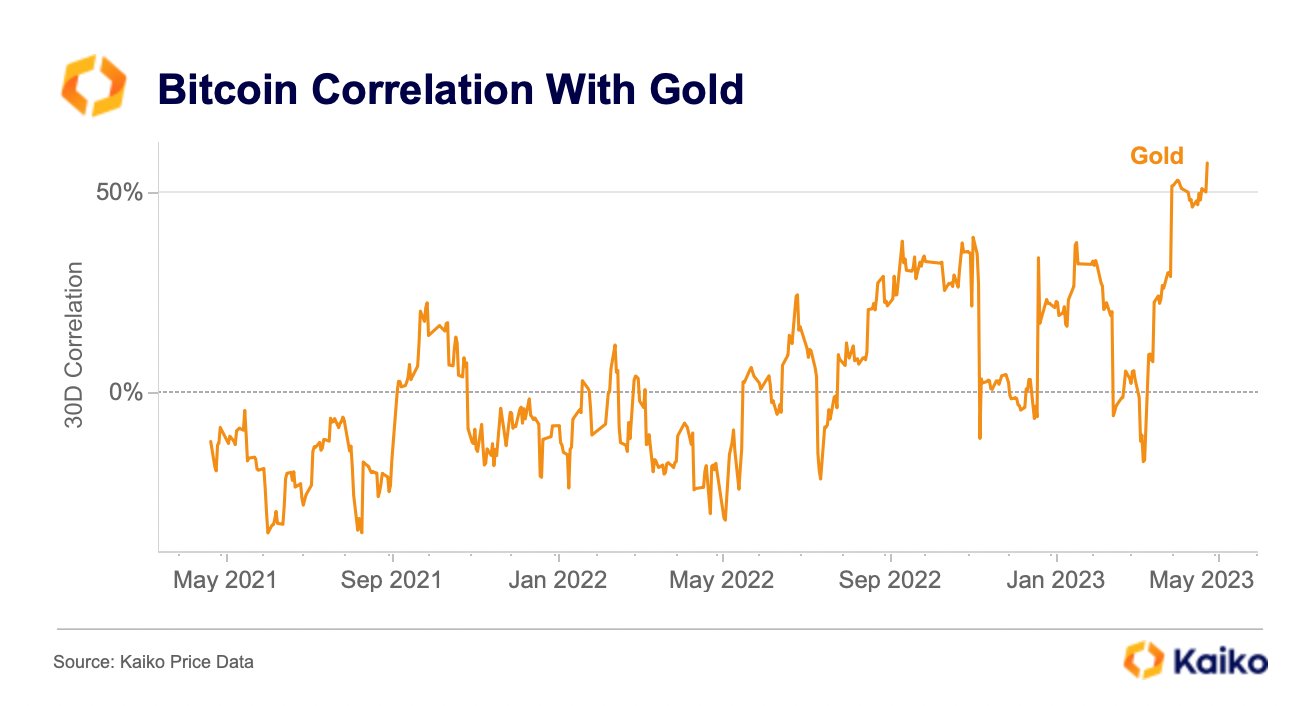 It indicates Bitcoin has emerged as a safe haven for its hedge against inflation and a store of value characteristics. During inflation and uncertainty, investors put their money in gold, but Bitcoin witnessed more inflow of money than gold.
For a long period of time, BTC has shown a close correlation to US equities. However, it has outperformed all three indices by nearly four times in Q1 2023.
Amid concerns over the potential economic collapse, "Rich Dad Poor Dad" author Robert Kiyosaki, warned about the state of the global economy. He claims that the U.S. Federal Reserve will be a catalyst for an imminent market crash.
The banking crisis is not over yet as First Republic Bank shares fell over 25% today after a decline of 50% on Tuesday, with the government not inclined to participate in the negotiations.
Bitcoin Price Gains Momentum
BTC price is currently trading at $29,756, up 10% in the last 24 hours. The 24-hour low and high are $27,284 and $30,000, respectively. Furthermore, the trading volume has increased by 70% in the last 24 hours, indicating a rise in interest among traders.
Experts predict Bitcoin can hit $35k amid the latest rally in the next few weeks. The Fed will announce its rate hike decision on May 2, with most probably a 25 bps rate hike as per the current data.
Also Read: Crypto Market Recovery: Bitcoin and Ethereum Price Begins Major FOMO Rally
The presented content may include the personal opinion of the author and is subject to market condition. Do your market research before investing in cryptocurrencies. The author or the publication does not hold any responsibility for your personal financial loss.