Data shows Bitcoin whales took out 15.7k BTC from exchanges during recent weeks, the highest amount since June of this year.
Bitcoin Whale Netflows Registered Negative Values Recently
As per the latest weekly report from Glassnode, the BTC whale withdrawal volumes have been rising in the last few weeks.
The relevant indicator here is the "whale netflow," which measures the net amount of Bitcoin that whales are withdrawing or depositing to centralized exchanges right now.
The metric's value is calculated by simply subtracting the withdrawal volume of this cohort, from the deposit volume of the same.
When the netflow has a positive value, it means BTC whales are transferring a net number of coins to exchanges currently.
Since investors usually deposit to exchanges for selling purposes, this kind of trend can be bearish for the price of the crypto as it may be a sign of dumping from these humongous holders.
On the other hand, negative values of the indicator suggest whale outflows are overwhelming the inflows at the moment. Such a trend, when prolonged, can be a sign of accumulation from this cohort, and hence might prove to be bullish for the BTC price.
Now, here is a chart that shows the trend in the Bitcoin whale netflows over the last couple of years: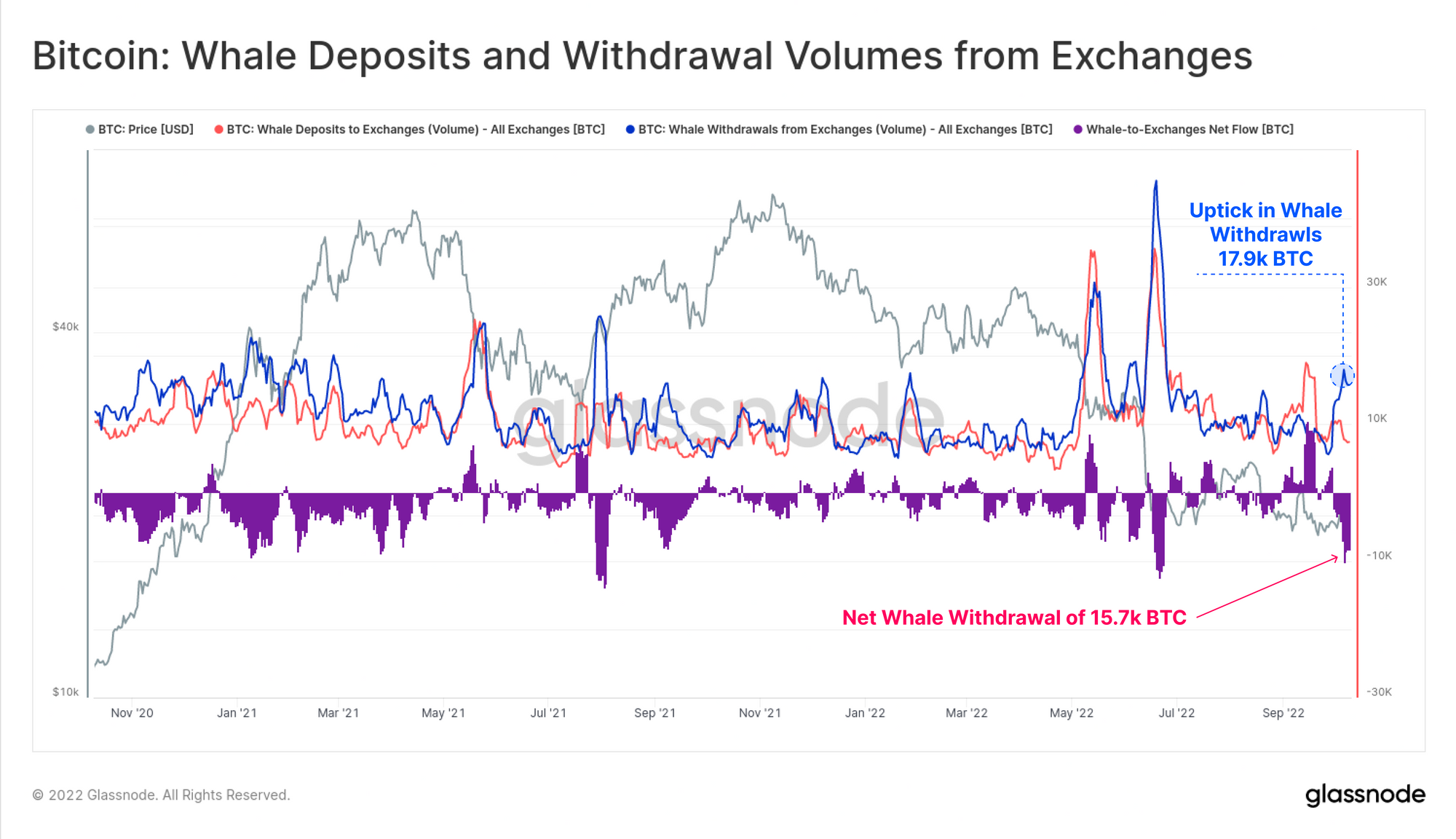 Looks like the value of the metric has been red in recent days | Source: Glassnode's The Week Onchain - Week 41, 2022
As you can see in the above graph, the Bitcoin whale netflows have registered deep negative values during the last few weeks.
In total, whales have withdrawn a net amount of 15.7k BTC in this period, the highest value since June of the current year.
The chart also shows the separate data for the whale withdrawals and deposits. It seems like withdrawals sharply rose up recently, while deposits stayed down. A trend that's consistent with the netflow.
The last time such large red netflows were seen was right after the price of Bitcoin crashed down from $30k to around $20k, implying that the whales may have accumulated thinking the price then to be the bottom.
Since the BTC price has overall been consolidating since then, the latest underwater netflows could mean this cohort is again accumulating in preparation of the market leaving to higher levels.
BTC Price
At the time of writing, Bitcoin's price floats around $19k, down 4% in the last week. Over the past month, the crypto has lost 12% in value.
The value of the coin seems to have declined over the last few days | Source: BTCUSD on TradingView
Featured image from Karl-Heinz Müller on Unsplash.com, charts from TradingView.com, Glassnode.com