Bitcoin price fell from $28K to $26.5K after the US CFTC sued crypto exchange Binance and its CEO Changpeng "CZ" Zhao for violating U.S. crypto trading and derivatives regulations. The crypto market considers this move as a continued regulatory crackdown against crypto.
With the crypto market already facing liquidity issues, action against Binance will further worsen the liquidity problem as it's the world's largest crypto exchange. According to data, Bitcoin trading on Binance accounts for over 80% after the collapse of FTX and Operation Choke Point 2.0.
Miners have started selling their Bitcoin holdings. Bitcoin Miner to Exchange Flow metric indicates miners have transferred almost 1700 BTC to crypto exchanges on Tuesday. It increases selling pressure on Bitcoin from miners. This is the second-largest selloff by miners YTD after over 3K BTC selloff on January 19.
Moreover, Bitcoin Miner Reserve metric shows miners' BTC holdings also decreased. It confirms miners have started selling their Bitcoin holdings and it will trigger Bitcoin price downfall. It is important to monitor the situation daily.
Bitcoin Miner to Exchange Flow for Binance Pool data reveals that 1646 BTC transferred from the Binance mining pool to Binance exchange.
Bitcoin Price Fall To $25,000 Likely
Bitcoin price is currently trading at $26,951. The 24-hour low and high are $26,606 and $27,304, respectively. Thus, the BTC price is down nearly 3% in the past 24 hours. Trader sentiment remains relatively neutral, with Binance being sued and other recent uncertainties not affecting their expectations.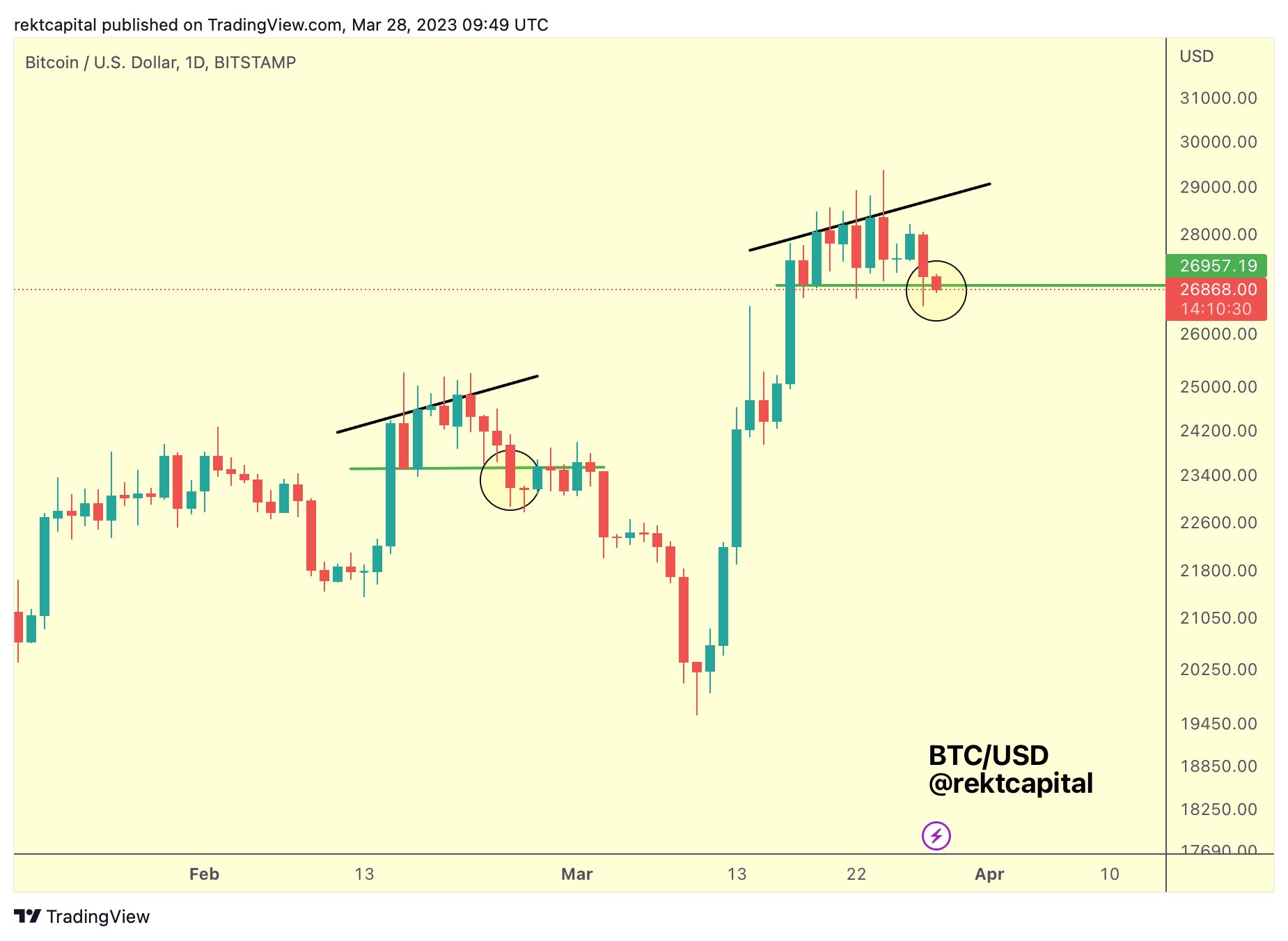 As per popular analyst Rekt Capital, BTC close below $27,000 in the daily timeframe would be enough to trigger the breakdown process. Bitcoin is currently holding above the $26.5K level. However, uncertainties and monthly close risk Bitcoin price to reclaim the 200-weekly moving average (WMA)
Also Read: After CFTC, SEC Could Sue Binance Over Securities Offerings
The presented content may include the personal opinion of the author and is subject to market condition. Do your market research before investing in cryptocurrencies. The author or the publication does not hold any responsibility for your personal financial loss.